Get Inspired with These Tips to Make the Most of Your Kitchen
With the holidays right around the corner, you're probably spending more and more time in the kitchen, either preparing speedy meals between seasonal activities or whipping up goodies to share with friends and family. As such, you've probably come to some stark truths about the kitchen design you're working with.
You might have already had an idea about the limits you face in your kitchen, and perhaps you've even thought more about kitchen renovations to improve on those shortcomings.
It could be time to make some smart upgrades and to take a closer look at your kitchen's bones. Renovations are an amazing way to revitalize the space and tailor its use to your needs, after all.
No matter where you're at with your kitchen and how you're feeling about it, though, there's always room for inspiration! We've put together a few tips that can help you transform your kitchen into the space you've always wanted.
1 – Open Up Your Shelving
Open shelving is a love-it-or-hate-it kitchen feature. While some people see it as an amazing way to add chic functionality, others view it as a waste of space or a way to highlight clutter. The cost of kitchen cabinets is a factor too, as it's not unusual for custom cabinetry to run as high as $1,200 per linear foot.
So, open or closed? As always, the reality is somewhere in between.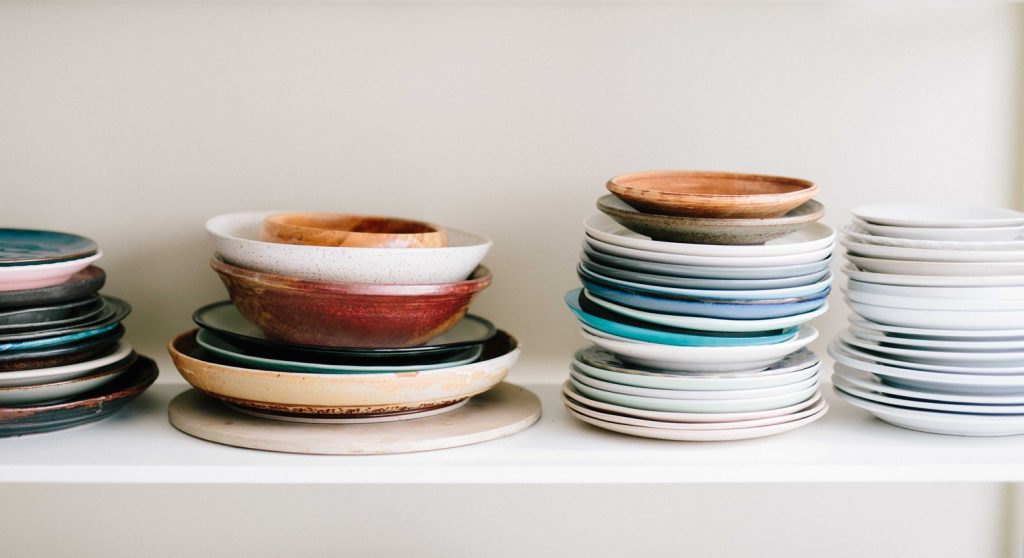 Open shelving has two chief uses:
Displaying decorative or eye-catching items and dishes
Putting your most-used items within easy reach
Chances are, if you're feeling the constraints of your current kitchen, open shelving will help put your trusted spoons, pans, and spices close at hand so you can focus on cooking.
You'll want to take some time to consider what you want to store and where you want to store it, and then you'll have to consider shelving depth, the height of each shelf, and the gaps between your shelves. It's about easy access, after all, so you don't want to be struggling to carefully extricate items that were once hidden behind a cabinet door.
You could also add a rack to hang pots and pans from, giving you immediate access with a professional kitchen vibe.
If you don't want to completely abandon the display potential of open shelving, consider mixing a few feature shelves in with your cabinetry. With the right kitchen design to tie it all together, this becomes a very sharp and stylish option.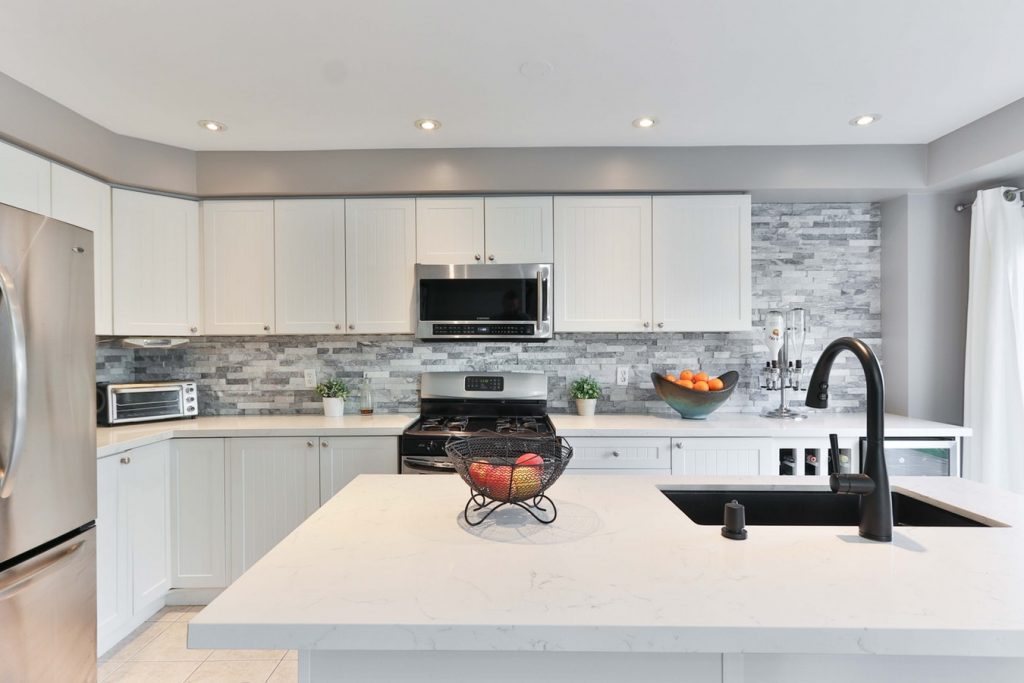 2 – Finding Space for Appliances
On that same note: appliances take up a lot of space.
The microwave sitting on the countertop is useful, but maybe you need a bit more space for the turkey at Thanksgiving. The solution? Hide the appliances, or incorporate them into the "infrastructure" of your kitchen.
One possible solution is building custom shelving or space within your cabinetry to accommodate some of these pieces. Slide-out stand mixer stations are a popular option, for example, and there are many microwave models designed to fit snugly into a range hood.
This is a challenging one, to be sure, but it usually means rethinking your space in a meaningful way, addressing your work triangle, its work zones, and considering other upgrades an additions, such as an island.
3 – Upgrading Countertops
Once you've freed up some space on your counters, what do you do with them?
Even if your approach to your kitchen is geared towards functionality, you should still consider upgrading your countertops. While these upgrades are typically thought of as purely aesthetic, most of your options offer a wealth of benefits beyond good looks:
Quartz: Get a stone look with minimal maintenance! Quartz stands up to hot dishes, pots, knives, and even staining, but can still chip, which will need professional repairs.
Granite: Every granite countertop is unique due to how it's sourced, and granite stands up to heat, cuts, and scratches; plus, it looks great! The downside? You'll have to reseal it regularly to prevent stains, and it's as prone to chipping as quartz can be.
Soapstone, Limestone, and Marble: Unique, uncommon looks are possible with these materials, and minor scratches and nicks can easily be sanded out. They're (mostly) heat-resistant, too, but marble isn't so great when the temperatures rise. The downside is soapstone is really easy to damage, and staining can be tough to deal with.
Butcher Block: Butcher block is easy to install and repair, and with some varnish can stand up to stains, no problem. It's a classic warm look with tons of practical functionality, but you'll need to care for your countertops regularly to maintain them.
Laminate: Laminates look better than they used to, and they're a great low-cost option that's easy to install. Depending on what you buy, laminate countertops can be heat-resistant and clean easily, but knives and scratches will permanently cause damage.
Recycled Glass: This ultra-contemporary style has a modern look that's tough to beat, with a variety of available design options. But depending on the manufacturer, you might struggle to check all the boxes for stain resistance, heat resistance, and general toughness when it comes to wear and tear.
Concrete: You've probably heard more and more chatter about concrete as a material for construction and design. It's grown tremendously in popularity and offers a rugged, industrial aesthetic that's popular in many modern homes. Concrete's durable and easily customizable, but because it's so porous, it can stain easily if it's not sealed properly.
4 – No Kitchen is an Island…
…but a kitchen island can truly stand on its own, if you'll pardon the pun!
If you're struggling to really improve countertop space, consider adding an island. It gives you an additional surface to work with, giving you an option to move your sink from its position against a wall to free up more space.
An island can help you streamline the effectiveness of your kitchen's work triangle, creating multiple spaces for food prep, cleaning, and additional storage. This is particularly appealing if you've been stuck with a single-line kitchen or a particularly narrow parallel/galley kitchen, but placing an island between two particularly distant faces of a parallel layout can add further functionality.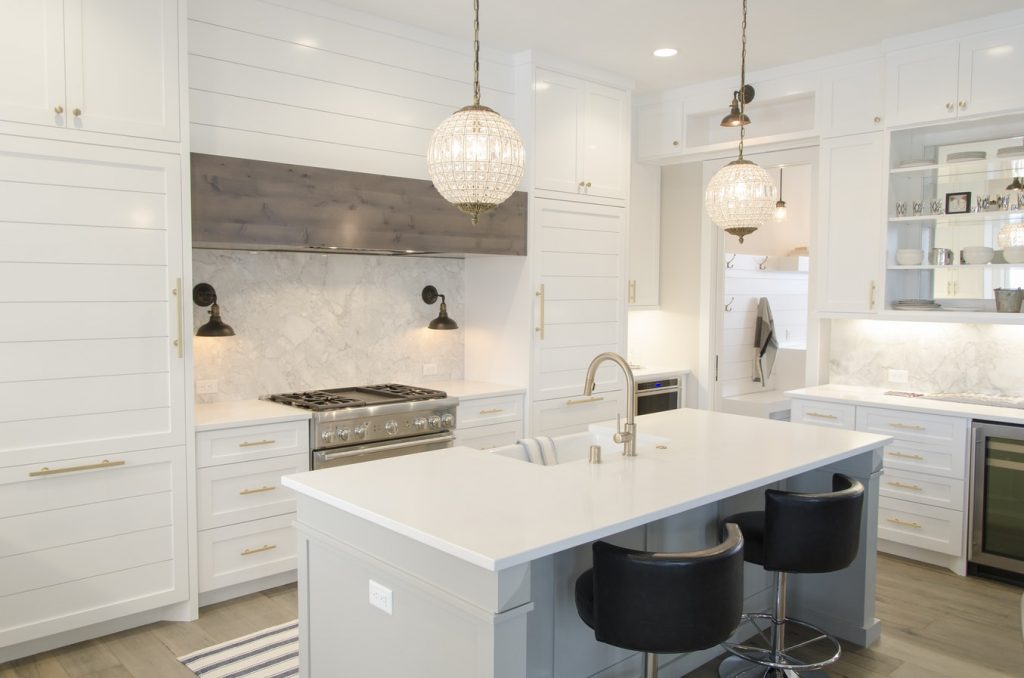 Plus, with the addition of an island, you're tapping into some of the "transitional" or multi-purpose uses of the space.
5 – Breakfast Nooks
The kitchen is, increasingly, the heart of the home, and the popularity of breakfast nooks and kitchen seating is one of the best illustrations of this concept.
Think of it this way: you're trying to get the kids out of the door, but still want to spend a few moments with them in the morning. If you don't have an open-concept main floor, it can feel lonely sending the little ones into the dining room to enjoy their breakfast while you get their lunches packed.
That's where breakfast nooks come in.
Whether it's a small table nestled in a corner or bar seating at an island, a breakfast nook is a great way to entertain guests and family while you're busy in the kitchen. It adds a little extra something, perfect for modern, multi-use kitchens.
Let's be honest, the kitchen plays double-duty all the time. How many people mosey over to the kitchen during a house party, abandoning the living room in favour of the kitchen's energy? How many couples catch up at the end of the day as they do the dishes or make a meal together? Creating additional spaces for socializing within the kitchen is just the natural next step.
6 – The Right Stuff
Materials go a long way, but it takes some consideration and thought to find materials that go well with one another. Your materials tie your kitchen design together.
We generally recommend starting with countertops to make the most of the space, as it's a central feature that catches the eye and sets the tone. From there, backsplash, tilework, flooring, and cabinetry are all pieces that need to strike a balance between form and function. Still, it's your space! It should reflect you and your tastes.
When choosing materials, though, there are a few core concepts to keep in mind:
Countertops are usually the single biggest source of colour and texture in a kitchen. As such, they tend to dictate the tone for the rest of the space. Generally, you'll want to stick to a single material, but you could also potentially include some variation for the pantry or for an island.
Cabinetry will often dictate the main material for the space. It's at eye level, so it's typically one of the first things that pop out to visitors. Simple, natural materials are your best bet, and light-coloured cabinets can help keep a room feeling bright and open. Other materials and tones can add depth.
Finally, the finishing touches pull a space together. Dark countertops pair wonderfully with a lighter tone for the backsplash, for example. Visually "busy" things, such as complex tilework, should always be countered with neutral elements to avoid overwhelming the eye.
So Much More Than a Kitchen
As we've touched on numerous times throughout this blog, kitchen design is so much more than creating a comfortable, practical space to prepare food.
The kitchen is at the heart of the home, a place where families recharge, come together, and share with each other. It's increasingly a social space, but one with an intimacy that simply makes a house a home. And really, that's what it's all about: you're not designing a kitchen, but creating a home you can enjoy for years to come.