Design Ideas to Help Inspire the Creation of Your New Favourite Room
Once upon a time, the walk-in closet was an item exclusively for the upper crust of society, a feature in mansions around the world that most people could only dream of.
Thankfully, times have changed. These days, walk-in closets are an incredibly popular feature in many homes. They're a common feature in most custom homes, and more homeowners looking to transform their house include walk-in closet renovations in their to-do list.
These spaces create a sense of luxury in addition to offering practical benefits—and there's plenty you can do to add even more to this space.
No matter the size, a walk-in closet is a room of its own. Designing its layout to make the most of the space will enhance your experience with this extra room in your home.
Not sure where to start? Don't worry, we've got you covered with planning tips, layout ideas, and other considerations to help you make the most of this space.
What Is A Good Size for A Walk-In Closet?
This is the big question! Some people will say a walk-in closet or wardrobe can never be too big. Others simply want that extra little bit of space for storage.
The average minimum size for a walk-in closet is 4 feet wide by 4 feet deep. A closet of this size will use the back wall and a side wall for shelves, hanging rods, and drawers, but might get crowded fast.
While that's the minimum size, the standard width of a walk-in closet can range from 5 feet to 12 feet or more. And the depth can range from 5 feet to 17 feet or larger.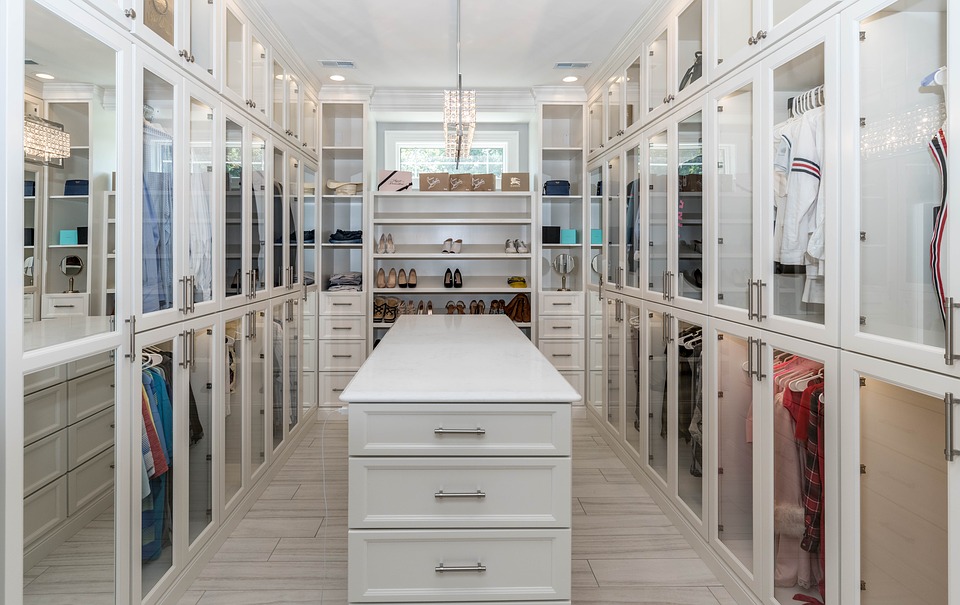 Keep in mind that most walk-in closets are at least 6.5 feet wide, allowing for easy access to everything you need.
Choosing A Style to Match Your Space and Needs
The style and physical shape of your closet will depend on the amount of space you have to work with.
That being said, there are three common shapes and styles to work with:
An L-shaped closet, which uses two walls and provides ample floor space.
A U-shaped closet, which uses three walls for a wealth of storage space.
A straight walk-in closet, which typically uses one wall, or two parallel walls, and is ideal for smaller closet spaces.
When it comes to choosing the style of your closet, find a style that suits you and your home. For example, contemporary closet designs are ideal for clean, uncluttered spaces in modern-style homes.
You might also want to consider including a center island to free up some storage space on your walls. The sky's the limit when it comes to style, but read on to learn more about designing your perfect storage space.
Design Considerations to Keep In Mind
The design of your walk-in wardrobe should be both functional and aesthetically pleasing. You want to create a room that you can use easily and that you enjoy spending time in.
With that in mind, here are a few tips and ideas to keep track of as you plan your closet:
Functionality
Your closet layout should provide easy access to everything in your closet, but especially to the items you use most often. Place shelving, drawers, and hanging rods in an easy-to-reach location.
Store your shoes on shelving near the entrance door of your closet. Shoe storage near the front of your closet makes it that much easier to put them away at the end of a long day.
Consider using a hidden laundry hamper that pulls out from a bottom drawer, so you can easily store and hide your dirty clothes.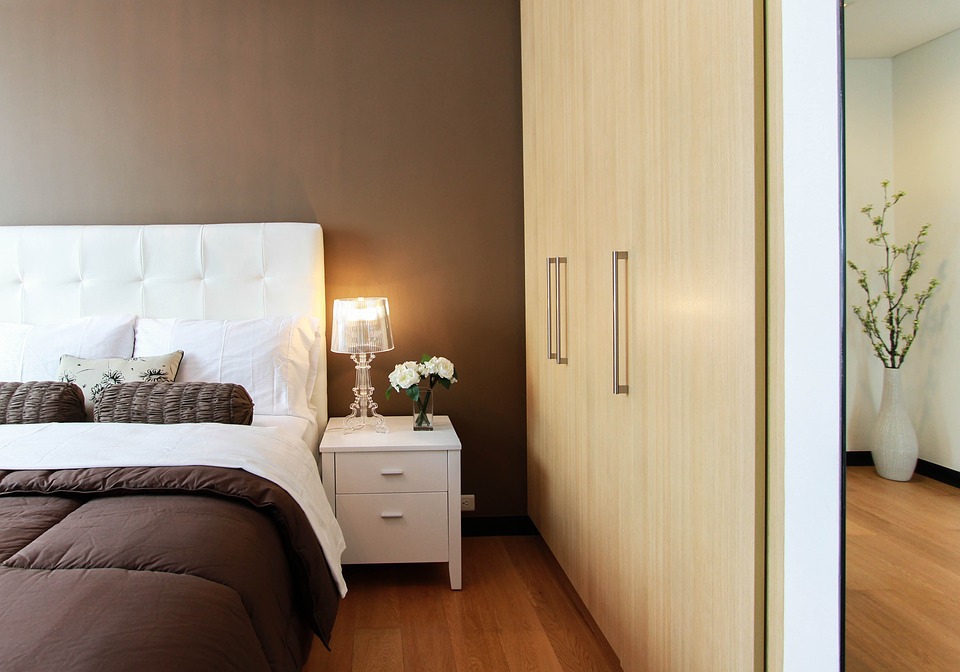 Lighting
Lighting not only enhances the functionality of a walk-in closet by improving visibility, but it also enhances the aesthetic of the closet's design. Natural lighting from a window is always a bonus to have.
However, you can make the most of lighting with lighted closets, spotlights on shelves, and a central light, such as a chandelier.
Mirrors
Having at least one mirror in your walk-in closet will make dressing and trying on outfits a whole lot easier. Whether you have a vanity, a full-length mirror, or a mirror covering an entire wall, don't forget this closet must-have!
Focal Point
Create a focal point in your walk-in closet using a built-in dresser or hutch. If you've got the space, you can place an island dresser or bench seating area in the centre of the closet. Ottomans and chairs are also useful for sitting when putting on your shoes, as are window seats.
The dresser can also have smaller shelves and drawers to store small items, such as jewellery, watches, belts, ties, and scarves. Surrounding the focal point and along the walls, place shelving and hanging rods for an open feel.
Storage
The more storage space you have, the better. Make sure to include dedicated storage space for all your clothing, accessories, and seasonal items. This designated storage will make it easier to find what you're looking for. This keeps all your items better organized and dust free (if in drawers or cabinets).
Use the space above hanging rods for storage. Purses and folded items can be stored on shelves above the rods. The very top shelves can be used to store items you don't use as often, such as seasonal clothing and luggage.
You can also use adjustable hanging rods to double your storage space and keep similar items together.
Accents
The variety of custom accents for closets is almost limitless. Consider crown moulding, custom cabinetry and hardware, light fixtures, art, and décor.
Organizing A Walk-In Closet
Obviously, you can organize your closet however you wish, but if you're not sure where to start, here are a few tips to keep in mind:
Shoes located near the entryway of the closet.
Most frequently used clothing and accessories hanging or stored on shelves and in drawers within easy reach.
A dresser or vanity as a focal point.
Seating near the centre of the floor.
Small accessories in small drawers.
Purses and hats on shelves.
Top-shelf storage for items not in use at the moment, e.g., seasonal wardrobes and luggage.
Adjustable shelves and hanging rods to maximize storage space.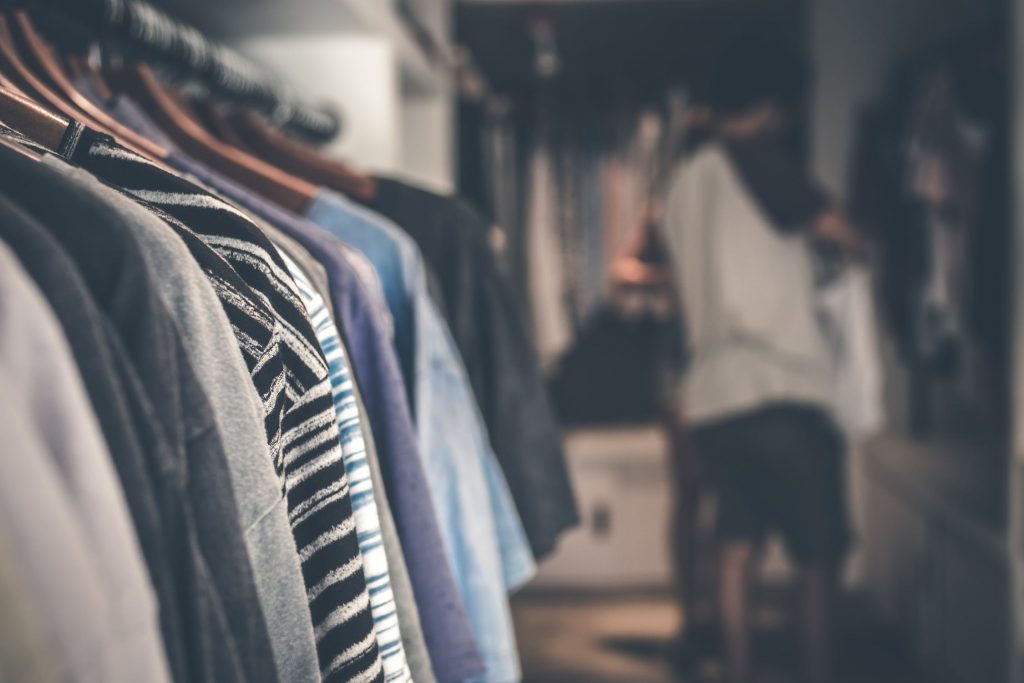 How Much Does A Custom Walk-In Closet Cost?
The average price for a custom, professionally-installed walk-in closet ranges from around $5,000 to $20,000, depending on materials and the scope of the installation project. Keep in mind this is a ballpark figure and creating a walk-in closet could mean more extensive renovations to a room. It all depends on what you're trying to achieve!
When in doubt, reach out to expert renovators to get a more exact quote.
You don't need to live in a mansion to enjoy a luxurious walk-in closet. Whether you live in a 12-bedroom mansion or a more modest-sized home, the pros can help you design the walk-in closet of your dreams—a walk-in closet that suits your home, your personal style, and your lifestyle.