Basement Renovation Ideas to Help You Prepare for a New Home Theatre, Rec Room, or Basement Suite
Do you have a dreary basement that you dread going down to? Are you frustrated by an unfinished basement? Basement renovations can solve these problems and put this often-overlooked space in your home to good use.
Whether you're looking for a full renovation or simply need some finishing work done, this is a perfect opportunity to consider how your basement can augment your lifestyle or even provide an investment opportunity.
A finished basement, especially one with additional features, adds value to your home. But more importantly, it makes your home more enjoyable, providing extra living space to use for whatever you desire.
If you're just starting to explore how you can transform your basement, or even if you're ready to start work, we've put together a few reasons why basement renovations are a perfect way to complement your home and lifestyle. We've also got a few ideas that might inspire you to create something beautiful with our team of experts!
Why Basement Renovations are Worth It
Increase Your Living Space
If your basement has become a storage space for the odds and ends you don't really have room for, why not renovate? If you've already got a finished basement, a few modifications can quickly transform the space, adding extra square footage to your living space without the cost of an addition.
Furthermore, finishing a concrete-floor basement can make it feel less like unruly storage and more like a part of your home. Even if you don't fully furnish or outfit your basement, finishing at least provides some cohesion and comfort.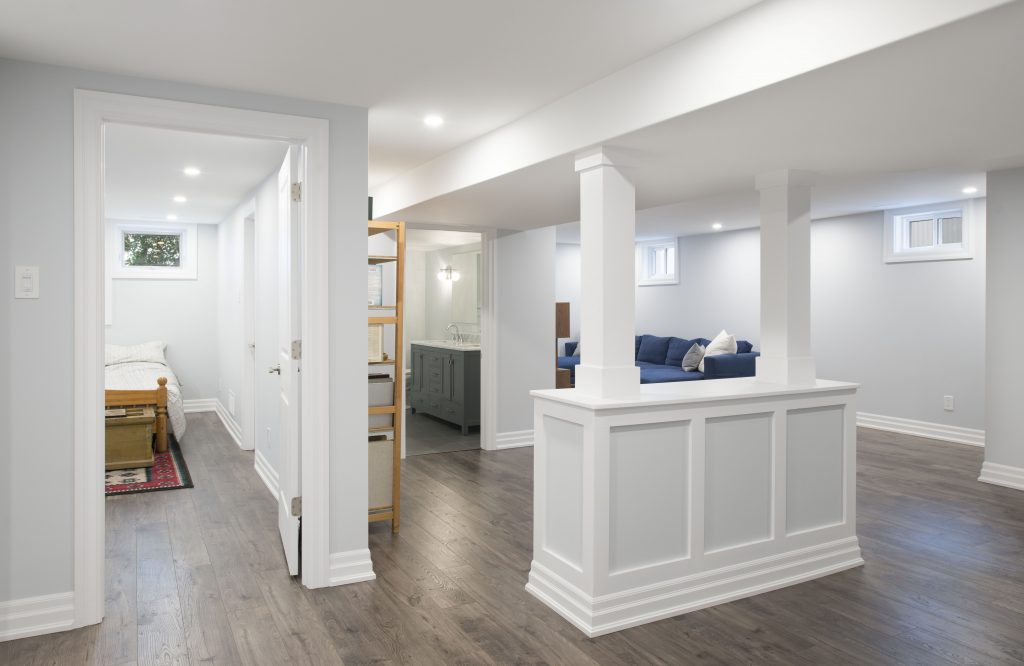 Improve Your Quality of Life
It's hard to measure quality of life as it depends so much on things that aren't immediately quantifiable. But look at it this way: giving yourself another space to use and enjoy is certainly going to improve how you feel at the end of the day.
Imagine doing laundry and storing belongings in a beautifully finished basement. Imagine having a full basement guest suite for guests to stay in when they visit, or a spot to put a small weight rack and a treadmill.
It's a tremendous benefit, and it's possible with space you may already have.
Improve Air Quality
Basement renovations are a perfect opportunity to identify and take care of any moisture problems to prevent them from reoccurring.
Moisture often leads to mould and mildew growth in unfinished basements. Mould is toxic to breathe in and can cause respiratory illnesses. Mould and water damage also make it harder to sell your home.
A clean, dry, finished basement will improve the overall air quality and condition of your home.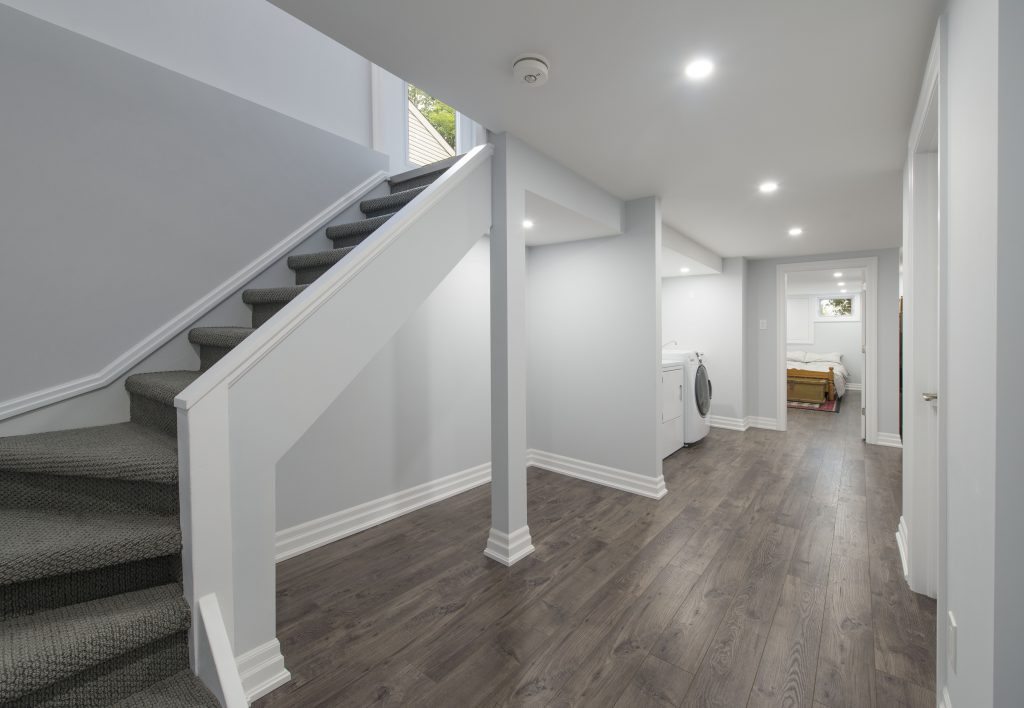 De-Clutter
One of the "hidden" benefits of these projects is that they're a great excuse to get rid of all the things in storage that you haven't used for years. It can also create a more organized storage space and a place to put all the stuff that's cluttering your home, such as your kids' toys.
If you're tired of stepping on kids' toys and dream of a clutter-free living room, a finished basement is a perfect place to set up a playroom and organize your kids' stuff. This will keep the clutter out of your way once and for all.
Create a New Space for the Family
Do you want a fun, comfortable, private place that you or your teenage kids can hang out in?
If you're like most parents, you want your kids to hang out with friends in a safe, supervised environment. And finished basements are just that, but with the bit of extra privacy teenagers want.
Turn your basement into the place your kids and their friends want to hang out in. This could include an entertainment system, home theatre, video games, darts, a pool table, and other games… more on this later.
Increase the Value of Your Home
These days, a finished basement will boost the resale value and curb appeal of your home. On average, a finished basement provides a 70% payback, making it one of the wisest home renovation projects in terms of boosting home value.
A finished basement can be included in your home's official square footage measurements. And even if it's not included, buyers will see the finished basement as valuable extra living space.
A finished basement will also improve the likelihood of selling your home. Many homebuyers prefer homes with finished basements, and unfinished basements are often deal-breakers.
Ideas for Your Basement Reno Project
How you renovate your basement will depend on its future uses. Some common basement design and renovation ideas include:
A wide, open-concept space for multiple uses—rec room, family room, kids' room, or gym;
A kitchenette and bar area;
Income, such as Airbnb or long-term rentals;
Extra space for a guest suite and/or a home office; and
A sound-proof room for a home theatre.
Create a Home Theatre
A finished basement is a perfect space for your dream home theatre. You can add comfortable reclining chairs, a surround sound system, and (of course) a massive TV or a projector and screen.
A home theatre is a great option if your family loves nights in watching favourite films together, or if you're a film buff keen on watching your favourites without distraction. If you're not keen on a full home theatre, consider creating a multi-purpose rec room, perfect for catching the big game with a cozy bar close on hand.
Create a Quiet Home Office
If you work from home, you likely get interrupted by both loved ones and noise from outside. Thankfully, basement finishing gives you an opportunity to create a quiet, soundproofed office to get your work done in.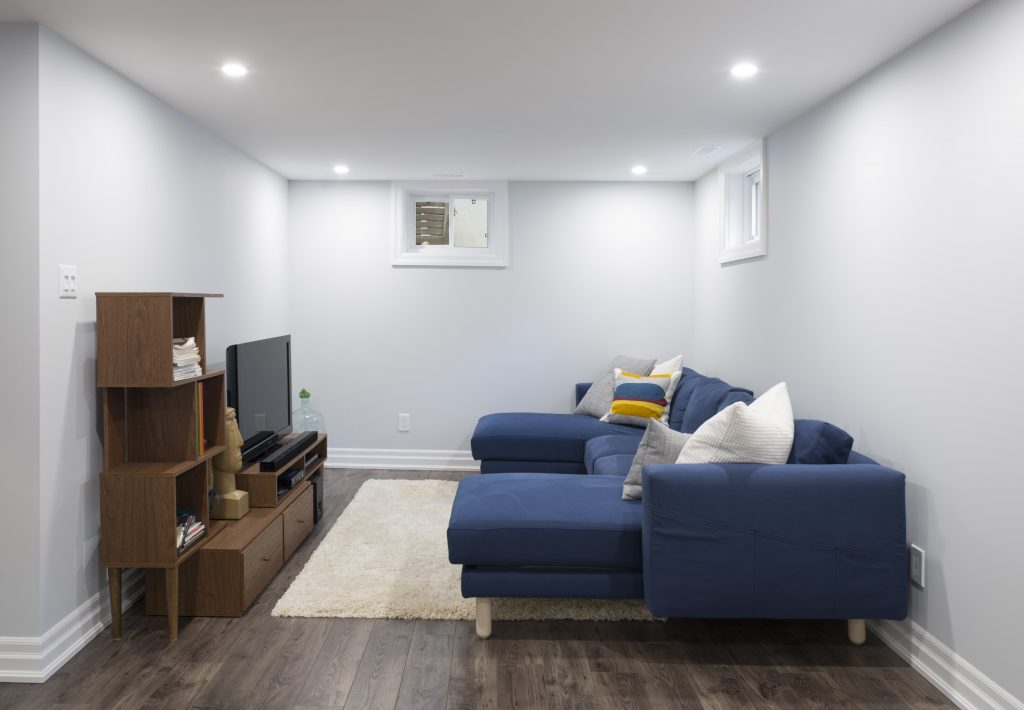 What's more, a home office offers an opportunity to create a bit of balance and distance between your job and your home life.
You're still under the same roof, but having a dedicated space for work can do wonders when you're looking to maintain distraction-free productivity.
Bring Your Gym Home
Driving to the gym before or after work is often one of the last things people want to do every day. But if you have a home gym in your basement, you might find it easier to stay motivated and get your workouts in.
A home gym offers convenience and privacy while saving you plenty of valuable time and money. You won't have to drive in traffic, pay for a gym membership, or wait to use gym equipment during peak gym hours.
What to Consider When Designing Your Space
Keeping it Dry & Comfortable
Basements are often cool, and old, unfinished basements have an unfortunate tendency towards dampness, especially during spring thaws. Basement renos are a great opportunity to address these common complaints and issues while improving on your existing space. Our team will always keep an eye out and inform you of any cracks in the foundation or signs of water damage in your basement.
Water issues may be caused by issues in the foundation, or you might just need better grading around your home to prevent water buildup and drainage issues. Installing vapour barriers in the walls and floors before framing and finishing these surfaces helps prevent moisture from getting in.
Local Building Codes
Check with your local municipality to see if you need any building permits and to help guide your basement renovation.
Building codes dictate the requirements needed for a safe building. These include the types of insulation, windows, and egress—paths to exits, especially in case of fires.
If you need plumbing and electrical work in your basement, you will also need a professional inspection.
Ceilings
The ideal height of a basement ceiling is no less than 7 feet, 6 inches, but if you've got the room for a higher basement ceiling, why not go for it? Consider the type of ceiling you want and how much space it will leave once finished.
Drop or suspended ceilings conceal venting, plumbing, and electrical connections while providing ease of access through removable tiles. These ceilings will reduce the amount of overhead space, and aren't ideal for a home theatre set up. Look at what you want to do with the space before making a final decision on the ceiling.
Lighting
Since basements usually don't have as many windows as other levels in a home, the amount of natural light is limited. This can make basements seem dark and gloomy.
But with enough artificial light, basements can feel warm and welcoming. Consider recessed lighting in the basement ceiling since it won't take up overhead space.
Your basement renovation plans will depend on how you want to use your new basement, now and in the future. While it's worthwhile to keep an eye on the budget, building codes, and practicality, don't lose sight of your vision! Working with Sunter Homes, you can create the space you've always dreamed of and make it a reality.